From JR Nara station , Kintetsu Nara station
From JR Nara station, go up SANJO-dori street toward Kohukuji Temple.
From Kintetsu Nara station, Exit #2. Turn right into a shopping mall. through Higashimuki street (Shopping arcade). Turn left at end of the street.
At "Y" take slight right so pond(Sarusawa Ike) is on your right. After the pond, make a wide right turn so the 5-tire pagoda is behind you and slightly to your left. Pass Hotel Obana. Shortly after, there is a men's hair salon across the street. Turn left here into the alley with the small yellow sign reading "Nara Hotel". The hostel is at the end of the alley on the right.
If you get lost, ask where Nara Hotel is. We are just in front of West Entrance(Back gate) of Nara Hotel.
From JR Nara station: about 25 minutes on foot
From Kintetsu Nara station: about 15 minutes on foot
By Bus
From JR Nara Station, Take Bus # 50 or 51. Please get off Nara-kotsu bus at "Nara Hotel" stop.
Enter Nara Hotel gate and proceed to left-hand and descend the way to the parking lot and the chapel. There is a back gate of Nara Hotel. Tamura is just in front of it at the left corner. It's a few minute-walk from the bus stop.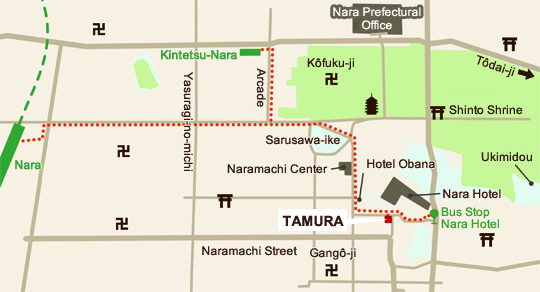 1, Fushingazushicho, Nara-shi, Nara